Had dinner with IMU coursemates last friday night. It's sad that CNY has come to an end. No more angpao. Gotta work harder in study, hectic life resumes!
This is my second time at Home Town Steamboat restaurant (Puchong branch). My first time was with KOH family for new year reunion dinner. I was tagged in FB photos and one pic that attract my friends the most is the awesome Chocolate Ice Cream Fondue. It is one of the reason why we were here. =)
If I'm not mistaken, Home Town Steamboat Restaurant is the only steamboat restaurant that provide most types of soups. These includes clear soup, Tom Yam soup, Hong Kong style clear soup with preserved egg & parsley, porridge in claypot with pumpkin and many more. So there are such a wide varieties of soups you can choose from!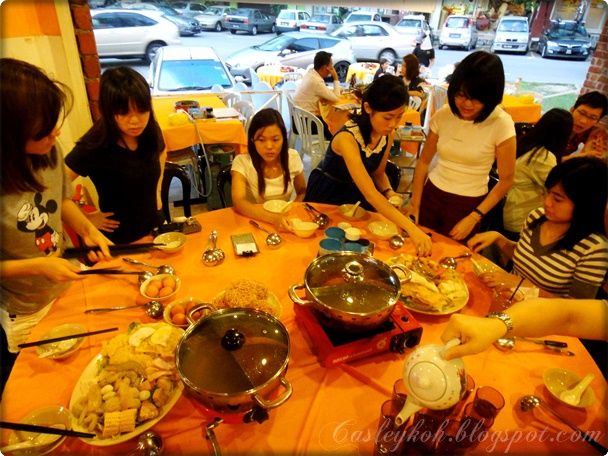 Setting up the dining tools
Ready to indulge ourselves
12 of us have ordered a portion of 8 pax (RM 15.50- RM 16.50/pax)
We had selected 2 soups: clear soup (清汤) and tom yam soup(冬炎)
The soups are superb!
This signature Tom Yam soup is highly recommended as I simply got addicted to it
*Feel like going to have it again the moment I'm blogging about this*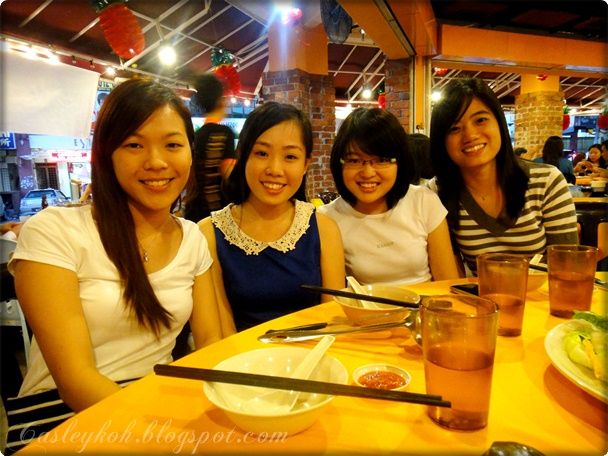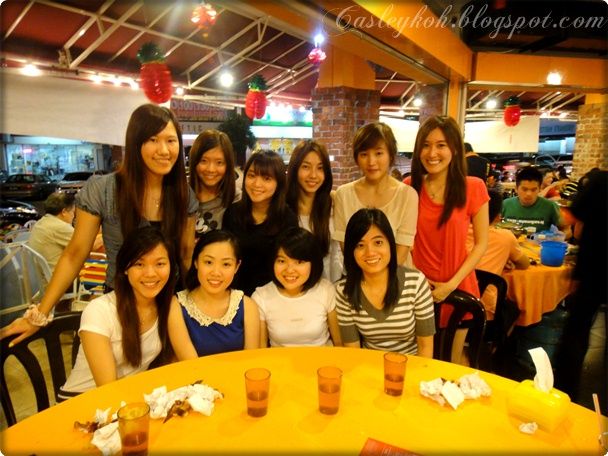 The super thin pork slices (RM 6.90)
We got 2 plates for free! Whee~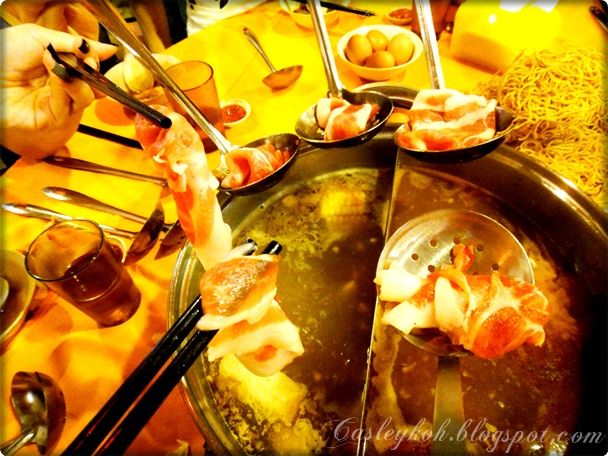 Didn't order any yee sang
But we had our lou sang in a special way~ with the pork slices!
Last lou sang for CNY 2013
Like this pic
The laughter is priceless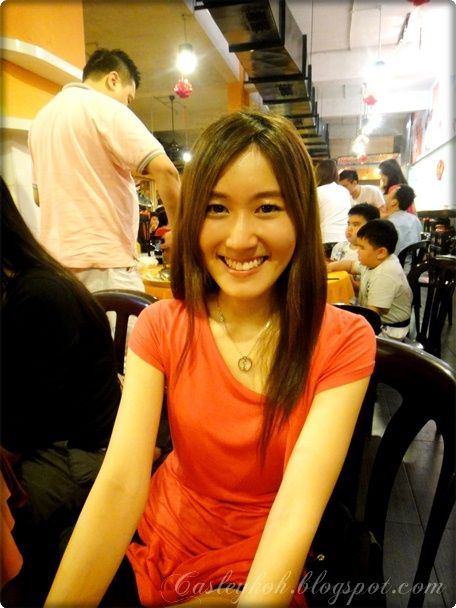 The point here is not to look at me but to
Focus at the cute lil brothers behind me
They look so much alike Crayon Shin-chan especially the younger brother, so cute!!!
All of us were stunned when we spotted them,
mutually agreed that they are the real life version of Crayon Shinchan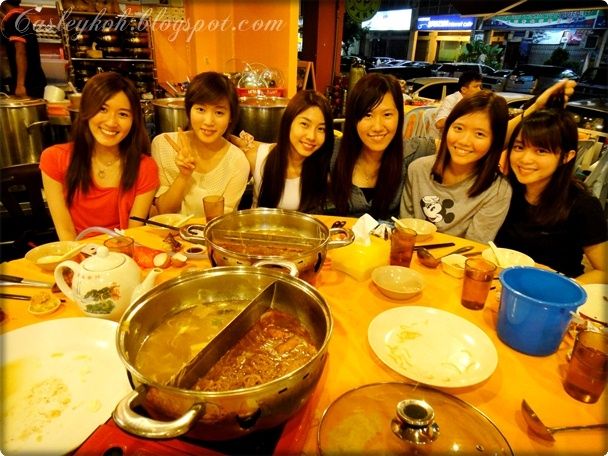 With my bunch of crazies
If only you can observed Ah Kuan is pulling Ah B's hair
Otherwise it will be a perfectly normal photo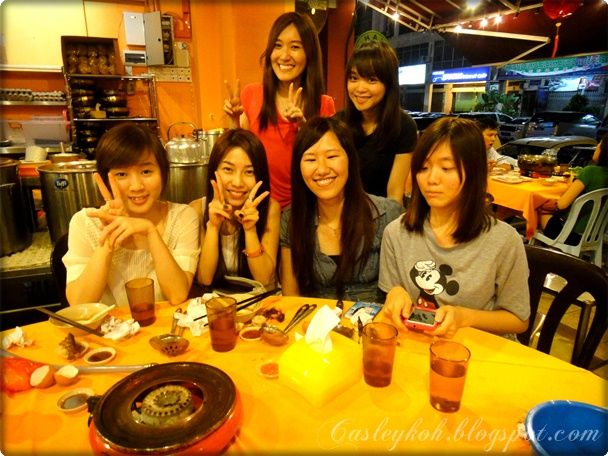 What were they doing?
Really 'pattern zoi zoi'!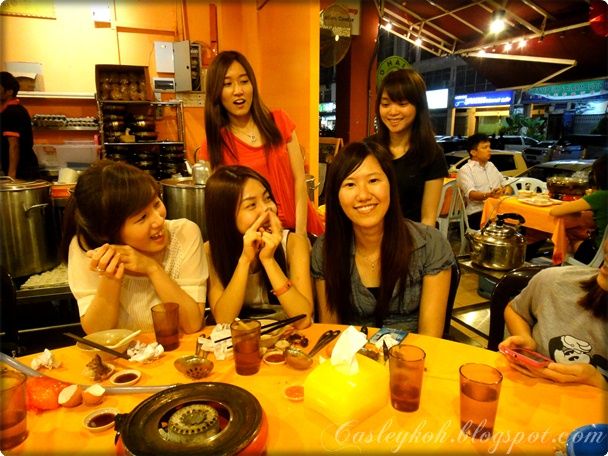 Burst into laughters when we checked on the Playback
Apologized to the other customers that night, I guess we were very noisy LOL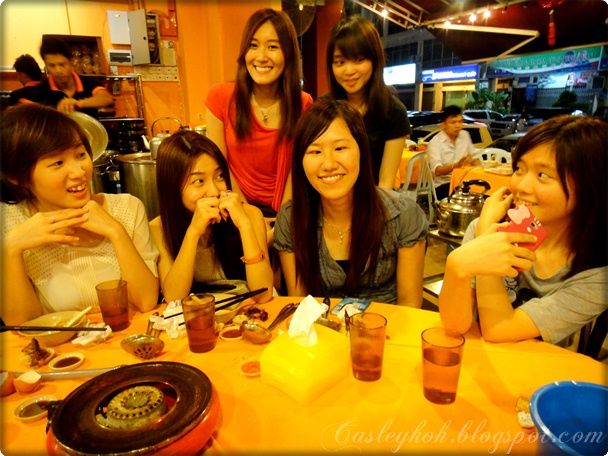 Ah Kuan was addicted on doing that hahaha!!
Okay, no more pictures!!! Because........... it's time to indulge our craving for chocolate!!
The Chocolate Ice Cream Fondue is here!! Yummy~
RM 19.90
Non stop taking photos of the chocolate ice cream fondue instead hahaha
The star of the night who captured everyone's attention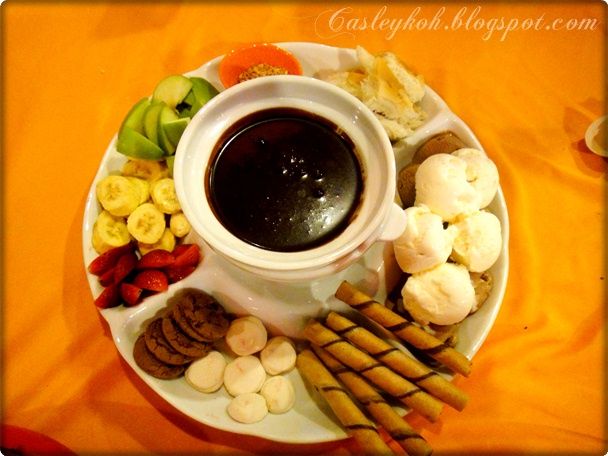 Other than the ice cream, there are marshmallows, breads, love letter biscuits, chipsmore biscuits and fruits such as strawberry, banana and apple to be dipped with the chololate
Truly indulgence!!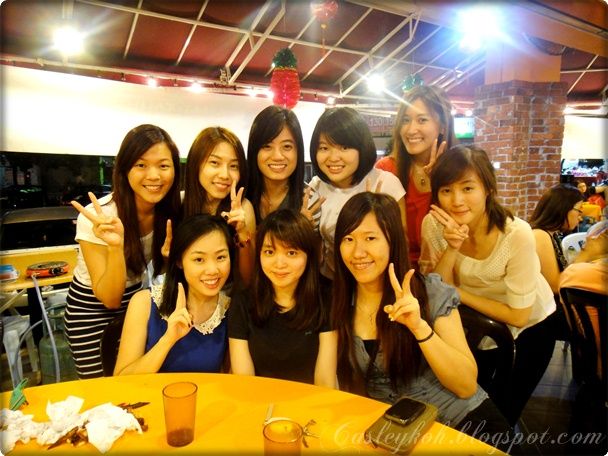 Finally we have group pic in a proper way xD
Review:
The foods here are fresh and taste really good. Thumbs up especially for the soups!!
Another plus point:
No tax, no service charge!!
The service is good but could be improved. The service is rather slightly slow, wait for like 5 to 10 minutes (being impatient) for the chocolate ice cream fondue. Anyway we can understand the situation since there were too many customers,
FULL HOUSE
!! =)
Home Town Steamboat (Puchong branch)
Contact no: 03-80514268 / 010-7660179
Address: 2-G, Jalan Puteri 2/5, Bandar Puteri 47109 Puchong, Selangor.
GPS: 3.023246,101.615932
Business hour: 5pm - 12am (daily)
**************************************************************************
Other branches of Home Town Steamboat (contact number and address) as below:
Setapak (HQ):
03-40311930 / 03-40248903 / 016-2080244
126-0-04, Sri Pelangi Condominiums, Jalan Genting Kelang, 53300 Setapak, Kuala Lumpur.
Kota Damansara Branch:
03-61450785 / 012-3933155
23-1, Jalan PJU 5/9, Dataran Sunway, Kota Damansara, 47810 Petaling Jaya, Selangor.
Kepong Branch:
03-62610074 / 016-3484868
71, Jalan 11/62A, Bandar Menjalara, Kepong, 52200 Kuala Lumpur.
Pandan Indah Branch:
03-42854403
3A&5 (Ground Floor), Jalan Perubatan 2, Pandan Indah, 55100 Kuala Lumpur.
Cheras Branch:
013-2226115
4, Jalan Mutiara Raya 4, Taman Mutiara Cheras, 56100 Kuala Lumpur.